With the holiday season fast approaching stress levels can run high. Who am I kidding? Stress levels for most of us run high all year round. There are many common ways to help combat stress, such as deep breathing, meditation and exercise. Yet, many people find it hard to make time to practice any form of stress management on a regular basis.
Stress is an important part of life, especially when it is used to help us in moments of crisis. However, when stress becomes chronically elevated the amazing effects that stress hormones can have in an emergency can become detrimental to your health.
Since many of us are under chronic stress, it is important to find ways to bring stress levels down on a regular basis. Regular acupuncture can be a great technique to help you manage your stress.
In a 2017 randomized controlled clinical trial, researchers looked at the use of acupuncture in helping university students and workers control their perceived stress levels. Researchers found acupuncture helped to reduce perceived stress for up to 3-months after treatment was completed, compared to those that received sham acupuncture.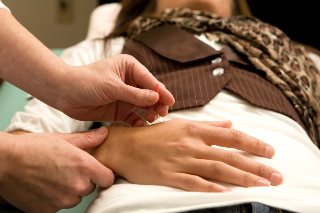 1. Help You Relax– Although it may seem like having needles in your body would increase stress and pain, it is quite the opposite with acupuncture needles. Many people find acupuncture incredibly relaxing and some folks even fall asleep during the treatment. The fine needles in Asian medicine help the harmonize Qi, which helps to restore balance in the body.
2. Boost Your Energy– Chronic stress from work, family, finances and health issues can leave you feeling wiped. Acupuncture can help increase vitality in the body.
3. Release Endorphins– It is believed that acupuncture helps to reduce pain in the body by stimulating the release of endorphins (natural pain killers) in the body.
4. Elevate Your Mood– Acupuncture is thought to help increase the release of serotonin in the body. Serotonin is the body's happy hormone, so increased serotonin means a happier you.
A typical acupuncture treatment lasts for about 10-30 minutes. The acupuncture needles are very fine, much like a strand of hair. When I perform acupuncture, I have clients lay on the massage table, we put on some relaxation music and I offer the option of a guided meditation to increase the relaxation effects. If you would like to learn more about how acupuncture could help you relax, please reach out. I would be happy to discuss how acupuncture may help you get closer to achieving a balanced life.
References:
Stefanie Schroeder, James Burnis, Antony Denton, Aaron Krasnow, T.S. Raghu, Kimberly Mathis. (2017). Effectiveness of Acupuncture Therapy on Stress in a Large Urban College Population.
(This information does not replace the health advice given by a primary care provider, and is intended ONLY for educational purposes)
To me pesto tastes like summer. Fresh basil right from the garden.....YUM! I have loved pesto since the first time my Aunt and Uncle introduced it to me and my sister while we visited them in Ottawa one summer. Since then my diet has changed and I have realized I'm...